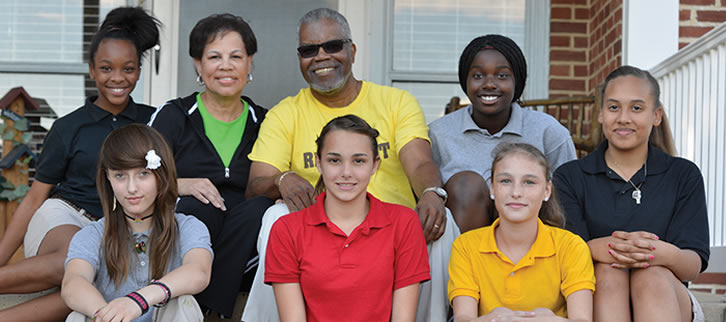 Shaping Kids' Lives
Make our unique mission your own. Team up with your spouse to manage a caring home for children from low-income families at an amazing K-12 residential school.
Full-Time Houseparents
Job #15-0099
Provide active care and supervision for a group of 9 to 13 students, all boys or all girls of a similar age, living with them in well-appointed campus homes.
Houseparents (HPs) actively engage with these children in caring, well-structured homes. HPs partner with a learning community of teachers, health professionals, administrators and students' parents/guardians to ensure each student reaches their full potential.
HPs oversee the children's daily lives, including the start of their day (healthy breakfast, appropriate dress and off to school on a timely basis), as well as upon their return from classes (healthy dinners, homework, chores, driving to/from extra-curriculars in school vans, etc.).
REQUIREMENTS
It's all about the kids. The requirements help ensure students' growth and success.
High school graduate or college education.
Must meet age and family status requirements.
Experience working with children and youth (preferably children and youth from low income or similar challenged settings).
Ability to successfully complete extensive clearance process.
Ability to meet health and physical requirements of the position.
Driving records and credit history in good standing.
Questions?
Not Ready to Apply?
SALARY AND BENEFITS

Beyond the personal satisfaction of making a positive contribution to the development of a new generation, HPs receive:
A rent-free private apartment, meals and utilities.
A comprehensive benefits package.
Certified Houseparent training.
Relocation assistance.
Use of athletic and fitness facilities.
A family-friendly lifestyle in a great location just a few hours from Philadelphia, New York City, Baltimore and Washington, DC.
TRAINING AND PLACEMENT
Houseparents begin working in a "flex arrangement," working in a variety of homes until placed in an assigned home or quad of homes.
This position is a year-round position. Houseparents work 12 days on and 3 days off. Private apartments for the Houseparents are provided, and couples are permitted to have two of their own children residing with them. NO PETS permitted.
Career, Compensation, Employment, Full Time, Job Board, Job Description, job Search, Job Search, Jobs, Occupation, Opening, Part Time, Salary, Schedule, Shift, Weekends, Annville, Bellefonte, Birdsboro, Bloomsburg, Camp Hill, Carlisle , Chambersurg, Colonial Park, Danville, Dillsburg, East Petersburg, Ephrata, Franville, Gettysburg, Grantville, Hanover, Harrisburg, Hummelstown, Lancaster, Lebanon, Lewisburg, Linglestown, Lititz , Manheim, Marietta, Mechanicsburg, Middletown, Mount Joy, Myerstown, Palmyra, Pine Grove, Pottsville, Reading, Selinsgrove, Shamokin, Shippensburg, State College, Sunbury, Wilkes Barre, Williamsport, York, Houseparent, Full Time, residential education, mentor, youth development, chaplain, boarding school, residential life, house parent, resident assistant, community advisor, para-counselor, counselor, licensed professional counselor, LPC, residential care counselor, residential counselor, childcare worker, Nonprofit, Teach, Teacher, Educator, Education, Instructor, Instruction, Social Worker, Child Care, Childcare, LPN, Nurse, Nurses, Retired, Retiree, Residential Child Care Worker, Teaching Parent